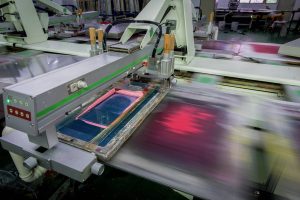 Top Print Intelligent is an engineering oriented that is incorporated in Hong Kong Special Administrative Region of the People's Republic of China. Our leading edge oval automatic screen printing machine presses are engineered in Hong Kong and our clients include Hong Kong, China, Asia and the United States of America.
With over a decade experience in supplying precision CNC parts, our parts are engineered and milled in house. This ensures that we are able to provide the degree of accuracy and precision specifications that is expected of our automatic screen printing machine presses.
Top Print Intelligent works closely with screen printers. The feedback from our clients who have been working in the industry with over 20 years of experience enables us to upgrade and improve our presses to bring you increase productivity and efficiency. Top Print Intelligent also are works directly with apparel manufacturers and buyers to develop, improve and deploy screen printing presses that is client focused. Our patented improvements will help you to save time and money, in terms of setup time and costs.